Ever wondered how to mirror print in Word for those creative projects? While Word doesn't have a native feature, it does offer several workarounds. You can use WordArt to reverse text easily and effectively. And if you need to mirror print images, this guide has you covered. Includes some alternate options too.
If you've ever tried to use one of those heat transfer papers to make a t-shirt or print a "secret" message for a kid that can be read in the mirror, you know this problem. I'm sure there are other uses for reverse text that escape me. Maybe the best example is how ambulances use this so that when we look in the rearview mirror, we can read the text.
How to Mirror Print in Word
By default, Microsoft Word doesn't have the means to reverse text. However, you can rotate objects using WordArt. In this example, I'm using Word in Microsoft 365 and will add my text using WordArt.
From the Insert menu and Text section, select WordArt.
From the drop-down menu, select your color combination.
Type or paste your text into the text box.
With your cursor in the textbox, click Shape Format from the top menu. The ribbon will change.
From the Shape Styles section, click Shape Effects and 3-D Rotation.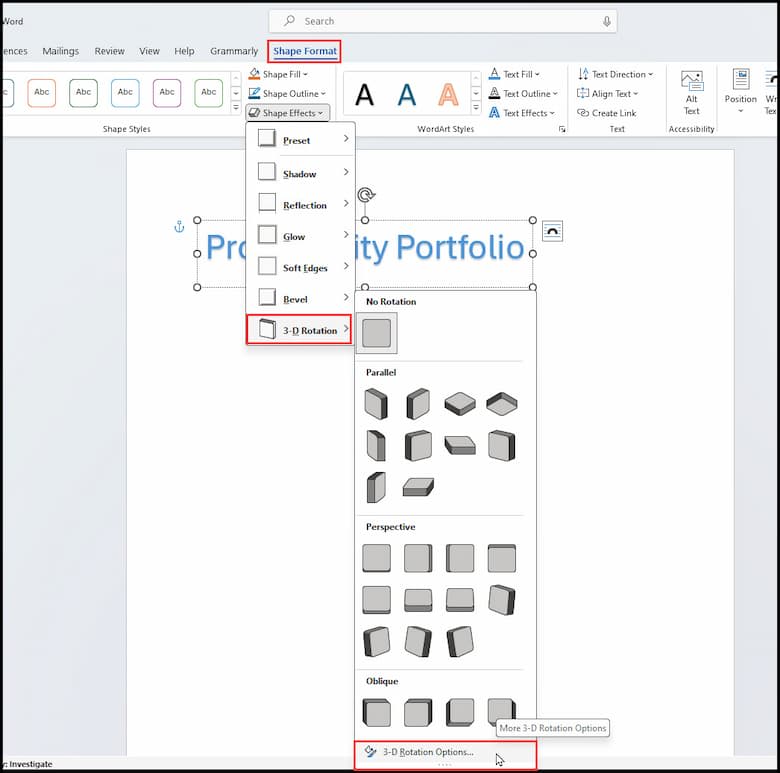 From the side menu, select 3-D Rotation options…. The Format Shape panel opens to the right.
From the Format Shape panel, click 3D Rotation.
In the Rotation section, enter 180 for the X Rotation value.
Click the X button on the top-right to close the Format Shape panel.
As a suggestion, make sure you proofread your text before trying to print backward.
How to Print Mirror Image in Word
When it comes to reversing images, the process is a bit different but easily achievable.
Insert or paste your image into Microsoft Word.
Click the image to select it.
From Picture Format, click the Rotate button in the Arrange Group.
Select Flip Horizontal from the drop-down menu.
Check Printer Properties (Non-Word Option)
Many printers have a feature that reverses text output. The problem is there doesn't seem to be a consistent name for this feature. In fact, when I went to the HP site, they provided many names for this feature, including:
back print
flip horizontal
mirror image
reverse
I have an HP DeskJet 6940, and it does have this mirror printing feature, although you have to hunt for it. I had to click into the Printer Properties and then go to the Finishing tab.
Online Reverse Text Generators (Non-Word Option)
Several online sites allow you to type or paste the text that you need. One mirror text generator that I found useful is from TextMechanic. Please note that it can't do mirror images.
As you can see from the buttons above, the site provides many options for altering your text. If you're in a silly/devious mood, you can copy the results and paste them into your email app or word processor and see how people react. One caveat is that you can only do 4 tasks per hour.
Also, if you paste the output into an application like Microsoft Word, be prepared for a bunch of red squiggly lines if you have spell-check enabled. This might be a situation where you want to turn off spell check in Word.
The next time you need to mirror print, remember you have a number of options. While the settings may be hard to find, how to reverse print in Word is easy.
Hand-picked Tutorials